As Bradford's Clean Air Zone went into force, the first Dennis Eagle eCollect was put to work by Bradford Council after successfully trialling the all-electric vehicle earlier this year.
The council's goals are to install an actual zero-emissions fleet of RCVs to help improve health and air quality in the district.
The initiative forms part of the Bradford Clean Air Plan. To help it achieve this, it has set measurable targets, including reducing emergency respiratory admissions at Bradford Royal Infirmary by 10% in the next two years.
It also supports Bradford's commitment to combating climate change, where it aims to achieve net zero carbon emissions by 2038, with significant progress by 2030.
Easier handling
During the trial earlier this year, the council noted that the eCollect was easier to drive and more efficient than its current vehicles. It was also much quieter and narrower, making it easier to manoeuvre. At the same time, it presents less obstruction for other road users.
Bradford Council used the eCollect to travel 100 miles on a single charge and worked out that it cost the council around £20 to charge it overnight fully.
Bradford Council's Portfolio Holder for Healthy People and Places Sarah Ferriby said: 'It is great to see improvements in our vehicle fleet as part of our air quality and health ambitions and net zero carbon emissions targets.
'The eCollect refuse collection vehicle will stand out on Bradford's streets as a zero-emissions vehicle setting the standard for the rest of our fleets.'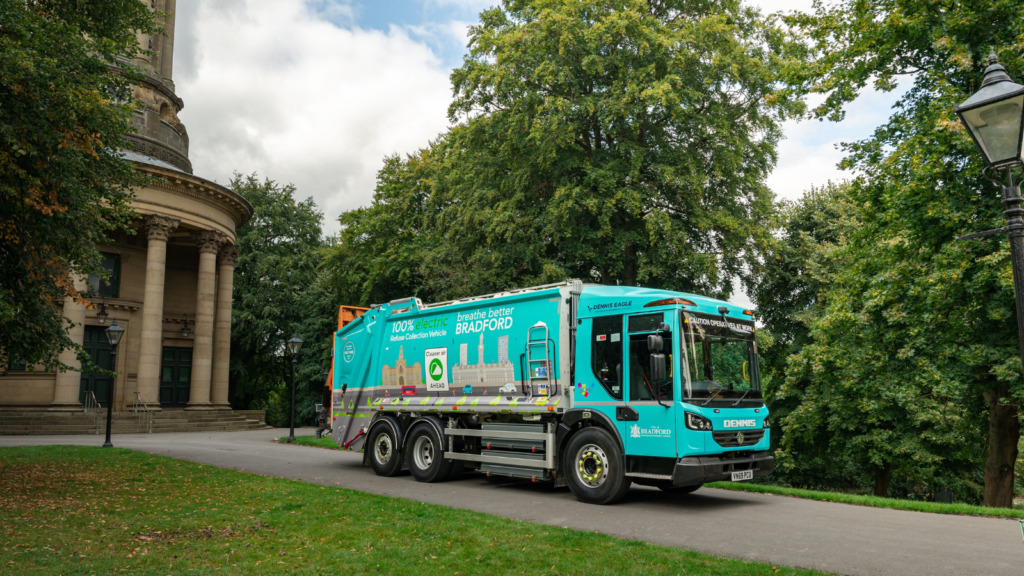 Zero-emissions waste collection
Dennis Eagle's Regional Sales Manager Andrew Christie added: "I'm delighted that Bradford has bought its first eCollect. Operationally, it will provide exactly what the local authority is looking for and do it with zero emissions.
'This aligns with the council's Sustainable Development Action Plan and will help combat the climate emergency and improve local air quality.'