Colson Transport has put a new Volvo FH16 750 Globetrotter 6×4 tractor unit into service – handing the keys to one of the business' longest serving drivers as recognition of his years of hard work.
The waste disposal company runs a fleet of around 80 commercial vehicles, the vast majority supplied by Volvo Trucks. The new FH16 will be paired with a tipper trailer and used for muck away work across Nottinghamshire.
Ryan Colson, the owner of Colson Transport, commented: 'I've run Volvos all my life. Since I started in the industry as a driver's mate at 15, Volvo Truck's been my number one. The business now runs around 80 tippers and grab lorries, more or less exclusively Volvo. They are the best you can buy. Over the years, I've had most Volvo models, and I've still got a couple of older FH16s in the collection. This latest version is fantastic. It looks great and delivers the performance and pulling power you expect.'
Red and white livery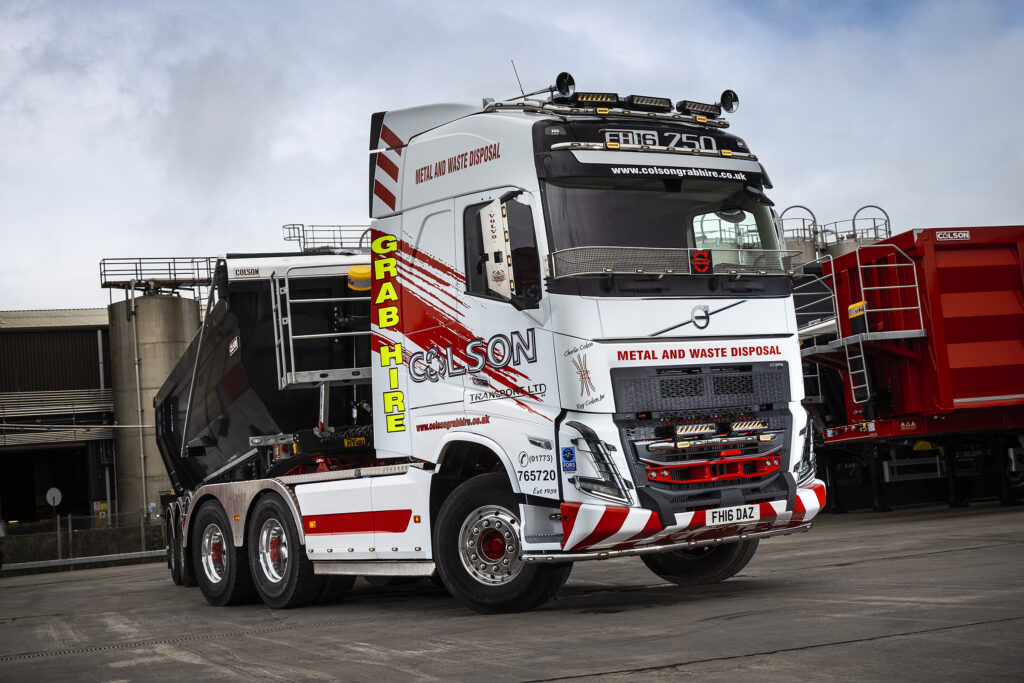 Supplied by Jack Castle, Area Sales Manager at Hartshorne Group, the new high-spec FH16 is liveried in Colson Transport's red and white livery. Its power comes from Volvo's D16K engine, delivering 750 hp and an impressive 3,550 Nm of torque, delivered via a 12-speed overdrive I-Shift transmission with construction and off-road software aids manoeuvrability when starting from a standstill and when driving at low speed. Colson Transport has specified the FH16 with a heavy-duty bumper to further assist the truck in off-road applications. Made of 3mm high-grade steel and partly covered by a thick polypropylene coating, it has been designed to shield the front of the truck from scratches, dents and broken headlights on any terrain. In addition, an X-High chassis offers excellent ground clearance to drop its heavy waste loads when accessing landfill sites.
Safety features
The truck also benefits from additional safety features, including industry-first adaptive high beam headlamps that automatically disable selected segments of the LED high beam when approaching oncoming traffic or another vehicle from behind. Plus, the Downhill Cruise Control function sets a maximum speed to help prevent unwanted acceleration when travelling downhill. Adaptive Cruise Control (ACC) now works at all speeds down to zero kph.
'The massive ground clearance is perfect for this line of work, and we've got just about every optional extra on there that you can think of,' added Colson. 'The driver loves it, and he's been with us for 17 years, so we wanted to give him something special as a reward.'