Granville Eco Park is accelerating the switch to cleaner fuelling and bio-methane fleets in Northern Ireland and championing the circular economy through its smart loops movement.
Up to 1.5% of the 130,000 long-haul HGVs in the UK will be running on innovative biomethane gas from waste feedstocks by the end of 2021, according to the latest estimates. This number is expected to double every year. Depending on annual mileage, one long-haul diesel HGV switching to biomethane is equivalent to taking 170-180 passenger vehicles off the road in terms of greenhouse gas emissions (GHG).
Transport on the UK mainland has had a head start in the green gas game, but Co.Tyrone-based company Granville Eco Park has been championing the fuel in Northern Ireland. In recent years the company has been focused on ensuring local fleets can take advantage of biomethane's benefits ahead of environmental legislation changes.
Granville Eco Park is an enhanced anaerobic digestion (AD) facility, the largest of its kind in N. Ireland. The AD uses food waste as a resource to create biomethane fuel. It was the first company on the island of Ireland to produce the fuel in 2016.
A natural gas and renewable gas mix
Granville's Chief Technical Officer, David McKee, spoke at the OWL NI Waste Expo at the Titanic Centre in Belfast in October about the exciting opportunities that biomethane represents in the journey to net zero for transport, partly due to its similar composition to natural gas and compatibility with the existing gas network infrastructure. Unlike the rest of UK, N. Ireland AD plants are currently restricted from access to the natural gas grid for injection and movement of biomethane, which has been a significant barrier to its growth in the area, but this is set to change with connection planned for 2022.
To overcome this supply challenge, however, Granville Eco Park created its own user friendly customer fuel point at its Dungannon site in November 2020 – the first of its kind in NI – successfully making the fuel accessible locally. The customers using the fuel are seeing cost savings of up to 50% in comparison to diesel. At a time when haulage costs are inflated beyond the norm, this fuel could be a lifeline to many transport companies in cutting operational costs.
David McKee says: 'The circular economy movement and the need for cleaner transport are important in action against climate change. We are passionate about offering services and innovations that achieve circular economy practice, not only enabling businesses to rise to the challenge of sustainability expectations but also enabling them to prosper.'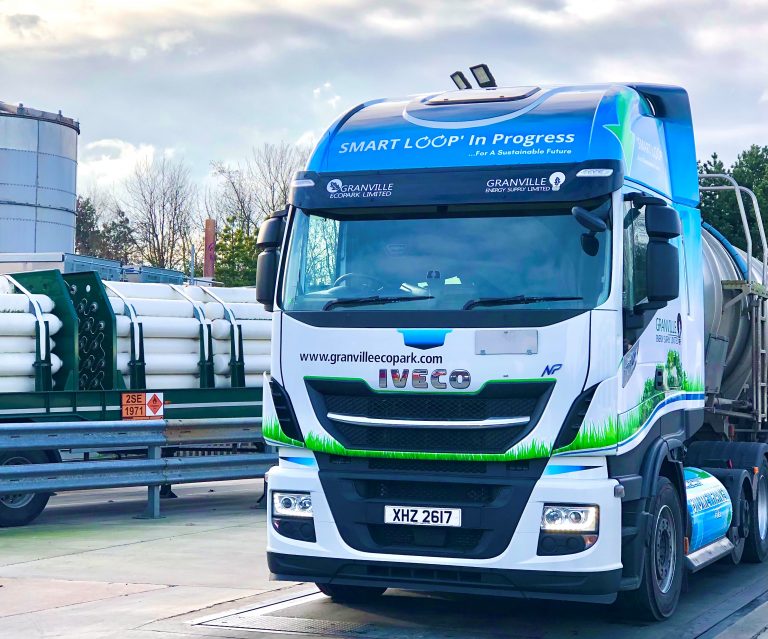 A zero waste 'smart loop'
Granville already runs three company VW maintenance vans on its biomethane. In February 2021 Granville added two bio-CNG IVECO Stralis NP lorries, resulting in a CO2 reduction of 85% (compared to diesel) and a range of 500km.
The two trucks have been nicknamed 'smart loop lorries' because of the multiple circular economies, or 'zero waste circles', they create when they are on the road. For example, the vehicles transport food waste to the plant and return subsequent renewable by-products back to customers, while fuelled by biomethane gas.
The vehicles demonstrate what can be achieved by adopting the fuel. They come with a 460bhp Euro VI engine offering a particulate matter reduction of 99% and a NOx reduction of 80%. Each truck will remove 125 tonnes of CO2 from the road every year, which is a total of 1,250 tonnes over a five-year period.
In 2020, the company began its SMART Loop Movement (SMART standing for Sustainable Movement Actively Reshaping Tomorrow) championing the circular economy and encouraging other businesses to adopt circular and sustainable practice through their products and services.
The team strives to educate on the benefits of this ethos, demonstrating how to stay ahead of government targets, meet consumer expectations, and optimise profitability with the new wave of sustainable practice.
Some customers have even been able to form their own personal Smart Loop. Some customers send food waste to Granville's AD process, and in turn receive the biomethane it creates to power their site/factory with self-generated renewable electricity. This in turn produces more food and waste, creating a closed circle of recovery and regeneration.
Other customers transport food waste to Granville's site and fuel their collection vehicles at the biomethane fuel point, effectively driving on the food waste they are delivering.
A rich natural fertiliser is also created in the AD/food waste process. This is used locally to replace chemical fertilisers, renewably increasing product yields and establishing a full circle food chain when any subsequent food waste is returned to the plant.
New ventures are planned for the future to expand this system, including capturing renewable CO2 as a product. This is very important, particularly in food and drinks manufacturing industries.
Decarbonising transport
The sale of new diesel cars and vans is to be banned from 2030 and in July it was announced that there will be no new diesel or petrol HGVs sold after 2040. Despite no other UK sector creating more emissions than transport (it counted for 27% of 2019 emissions), no other sector has decarbonised slower – transport emissions have only reduced by 5% since 1990.
HGVs are responsible for 17% of these emissions, vans account for 16% and buses 3%. As diesel becomes increasing expensive and restricted, viable replacement options for haulage are vital. Using biomethane, emissions from HGVs could be reduced by 38% over the next 10 years. If we wait for electric/hydrogen trucks to be deployed, this figure would be just 6% over the same period.
Future fuel today
Granville Eco Park's facility processes approximately 90,000 tonnes of food waste per year (representing 50,000 tonnes of CO2 saved at landfill). The biomethane fuel is created by upgrading the biogas released during the anaerobic digestion process.
Despite a higher initial capital investment, gas vehicles can provide ROI in two years with vehicles travelling 160,000 km/year. Drivers have also reported that gas HGVs are quieter, more comfortable to drive, and have comparatively better engine braking.
Despite an initial chicken-and-egg scenario between demand for gas vehicles and availability of the fuel, this has eased thanks to biomethane's compatibility with the natural gas network. The growing network of natural gas fuelling points in the UK, Ireland, and Europe has helped kickstart the switch and will offer a seamless transitional supply for fleet owners as biomethane levels in the network grow. Companies such as ASDA, Royal Mail, and John Lewis have already made the switch.
Granville was proud to be named Best Medium to Large Biogas Plant at the 2020 ADBA (Anaerobic Digestion and Biogas Association) Awards. In June 2021, the business received the first ever Special Recognition Award for Climate Action at The Belfast Telegraph Business Awards. In addition, it was the first AD plant in the UK to achieve certification under the AD Certification Scheme (ADCS), an industry-led initiative that recognises good operational, environmental, and health and safety performance at AD plants.
Subscribe to Fleet Vision International magazine.
Come and see us at Fleet Vision International – THE SHOW