Is electric vehicle range anxiety a genuine concern, or is it all in your head? Bucher Municipal shares internal testing results on its popular truck-mounted and compact electric sweeper models to demonstrate no need for concern about the machines' ability to carry out their demanding tasks.
Electric technology is becoming increasingly common all over the globe, with cities from Edinburgh to New York investing in electric road sweepers. Samsara conducted a survey in 2020 that indicated 90% of fleet managers believe that the complete electrification of fleets is inevitable.
There are three main concerns reported by fleet managers when asked about their diesel-run fleets: the need to reduce fuel spend, maintenance costs, and their environmental footprint (as highlighted by the Samsara survey). These three factors can all be addressed by implementing electric technology. Still, with this 'inevitable' move to electric technology, concerns have been raised about whether electric sweepers are as reliable and durable as diesel machines.
Range anxiety is the fear that the vehicle's fuel will run out before arriving at the desired destination. This fear is multiplied when considering electric vehicles. Volvo conducted a study that found 58% of drivers are afraid they will run out of power before being able to charge their vehicle. But is range anxiety just in our heads, and are we adding too much importance when considering the switch to electric fleets?
Internal tests
Findings from internal testing on a Bucher Municipal MaxPowa V65e electric truck-mounted sweeper show that not only does the machine last a full work day on a single charge, but it also came back with a battery to spare.
This study analysed the performance of the MaxPowa V65e in transit, carrying out city sweeping and carrying out rural sweeping. During transit, a full battery charge lasted for more than 220km over the course of seven hours and 20 minutes, completing it with 10% battery remaining.
While city sweeping, the V65e completed a full day's sweeping of six and half hours and only used 36% of the battery power. 
Pushing it to the limit
Even when pushed to the limit while performing rural sweeping (picking up heavy debris, mud, digging out, and kerb sweeping) over the course of seven hours, the battery remaining at the end of the day was still 20%.
These figures clearly show that the battery charge is perfectly capable of performing to the high-quality standards expected from a truck-mounted sweeper. Whether you are based in a built-up city environment, cleaning town centre streets, out in the rural countryside or putting the sweeper to hard work, the electric-powered sweeper is up to the task.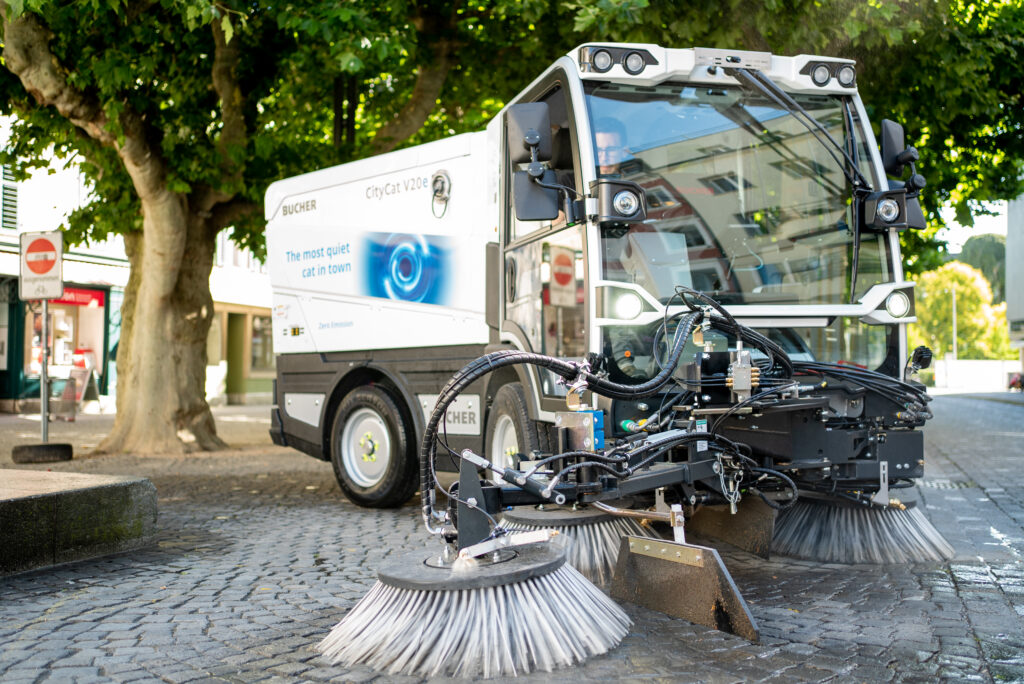 Electric compacts
The popularity of electric compact sweepers is also increasing, with cities such as Zurich and Dundee investing in the electric CityCat V20e compact sweeper. The popularity of these compacts speaks for itself, and the performance of the compact sweeper is on a par with its truck-mounted equivalent. In a recent case study of a CityCat V20e in West Sussex, there was no question as to its range capabilities. After a full work day of intense sweeping and transit, the electric compact completed all tasks with a battery to spare.
Charging takes two hours, so charging time doesn't hinder operational efficiency. In addition, these sweepers are compatible with roadside automotive charge points. Therefore small top-ups are possible throughout the day if needed to ease the psychological worries of range anxiety.
Solutions
Electric vehicles can offer a solution with fuel prices rising and climate issues becoming an ever-more urgent concern. While there are understandable concerns around performance and battery life, as with the transition to any new technology, figures show that there is no need to worry with Bucher electric trucks or compacts compared to conventional fuels. They can even surpass the performance of a diesel engine.