The sixth issue of the thought-leading publication for front-line fleet operations and essential services has been published. Read your copy today, and don't hesitate to share it with colleagues.
FVI features 78 pages filled with high-quality editorial, news, comments, case studies, and interviews. Of course, we also feature our dedicated OWL and Westminster Commission for Road Air Quality sections. Click on the cover below to read Fleet Vision International.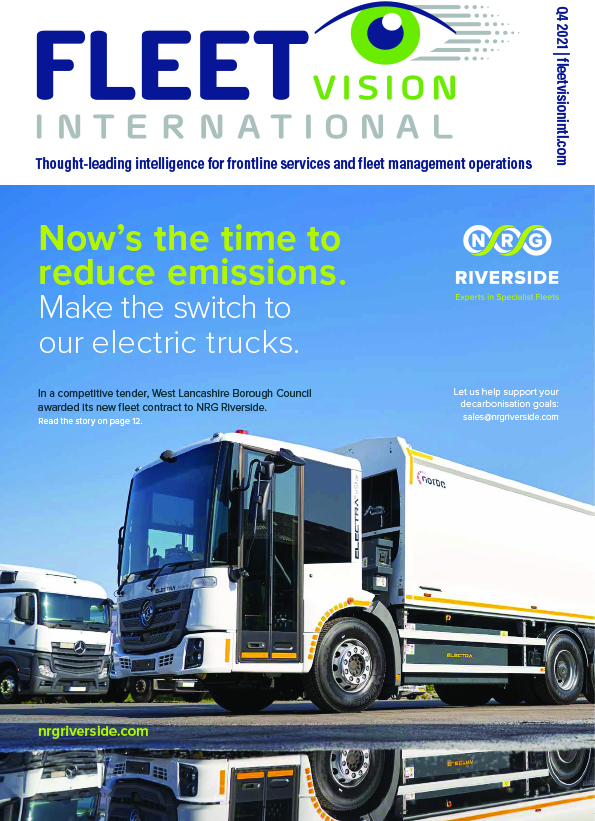 Contents of this issue:
Comment
What is holding back Northern Ireland's fleet operators from switching to electric?
Community Benefits
NRG Riverside is delivering social value in a new contract with a local council.
Legal: the driver shortage
What are the legal implications of missed deliveries or unmet contractual obligations?
Dawsongroup diversifies
Despite the name, the business now operates one of the country's largest and most diverse hire fleets.
Smart thinking
A partnership between Go Plant Fleet Services and Omnia Smart Technologies has developed a bespoke fleet management solution.
SFS's successful yearThe business reflects on a busy and successful 2021.
Airport crash tender
We introduce the Ziegler Z6The UK launch of the Venari and Ziegler airport crash tender collaboration.
Blue light lifts
Stertil Koni's hydraulic four-post lifts are a popular choice with UK emergency services.
The new Hydrohog
Multevo launches a multi-purpose dual-fuel highways maintenance machine.
Sweeping in comfort
Egholm's City Ranger 3070 makes operator comfort its top priority.
Opinions are taking charge
Grahame Neagus from Renault looks at how electromobility is helping decarbonise transport.
Emissions-Axles from Allison
Allison launches two new eGen e-Axles; Biffa installs FuelSense 2.0 to reduce CO2.
EVs in the City of London
How the new fleet is cleaning up local air quality.
Hydrogen fire engine
Work has started on a zero-emissions hydrogen fire appliance.
NYC Parks fleet goes Green
how the Parks Department ensures visitors can enjoy the clean air of the city's parks.
Mobile Fuelling
Switching to Shell TapUp helped Ferns Surfacing reduce its CO2 emissions.
Hackney's in-house success
Hackney in-sources and improves snow clearance.
Driver safety programme
Bacton Transport Services reduces risk with Lytx.
Triple-bin first for c-trace
c-trace fits its weighing system to its first triple-lift RCV.
Solar pollution solutions
Solar reduces a vehicle's reliance on fossil fuels.
PARTNER: OWL
News from OWL Partners
OWL previews; highlights from OWL Midlands and N. Ireland; the sustainability mission of CMS Supatrak.
PARTNER: WCRAQ
Westminster Commission for Road Air Quality
Introduction from Barry Sheerman MP; Mums for Lungs; data-led emissions reduction; WCRAQ's working party updates; the need to diversify EV adoption.
https://www.flipsnack.com/fleetvision/fleet-vision-international-q3-2021.html
https://www.flipsnack.com/fleetvision/fleet-vision-international-q2-2021/full-view.html?web=1&wdLOR=cE5DD79A7-0F03-6141-AD3A-AC846F16BC8D
https://www.flipsnack.com/fleetvision/fleet-vision-international-q1-2021.html?web=1&wdLOR=c944E5FA9-B051-114E-8299-996F0EDD8073