OWL4BOWELS will raise money by organising a charity bike ride from Oostende to Amsterdam (June 26 – June 28, 2024) for Bowel Cancer UK in memory of Jon Miles, who dedicated more than 30 years to the waste industry. Join us to ride, with sponsorship or support, or donate!
Despite having stage 4 bowel cancer for three years, Jon still raced his beloved 1965 Mustang and 1968 Cortina MK2. 'He was a husband, a son, a brother, a father, an uncle and a grandfather. Jon loved his family and was incredibly proud of them, including Benny, the dog. To us, he was a friend, a colleague, a boss, a confidant, and a mentor. He touched so many lives, and in fundraising for Bowel Cancer UK, we celebrate an extraordinary man,' said Kevin Murton, MD of EPIC Media.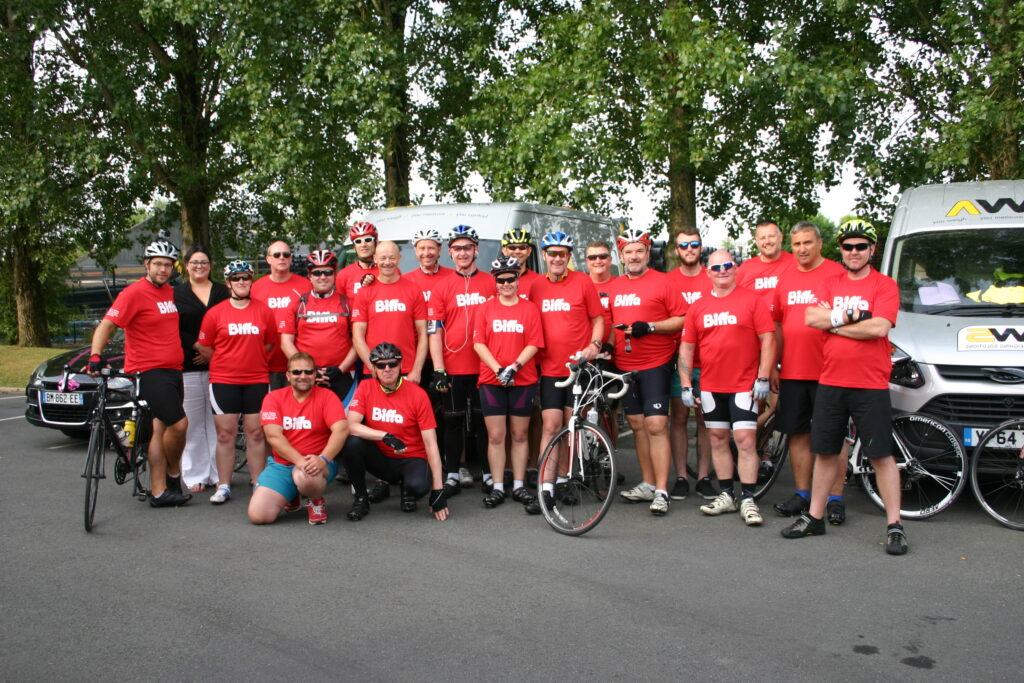 Bowel cancer is the UK's second biggest cancer killer but is treatable and curable if caught in time. Charity bike ride in memory of Jon Miles The team behind OWL4BOWELS saw this as a solid reason to raise awareness and money for research into bowel cancer by organising a charity bike ride from Oostende, Belgium, to Amsterdam, The Netherlands.
The charity bike ride will be taking place in June 2024 over three days ( June 26-28) and will cover 150 miles of coastal rides and spectacular views of Belgium and The Netherlands.
Kevin commented: 'This is the fourth bike ride we are organising, and it will be an epic adventure cycling along the coastline and dams. We will start in Oostende and cycle up to Breskens in The Netherlands, where we will take the ferry to Vlissingen across the River Schelde. Leg two will take us over the scenic dams and the world-famous flood defences on our way to The Hague.
'On the last day, we make our way to Amsterdam, where we will celebrate our arrival with a board trip on the canals in the evening. 'We have room for about 35 riders, and electric bikes are also welcome to participate. We need as many sponsors as possible to help with support vans, hotels, insurance, technical assistance, ferries, restaurants, etc.
'It will be fantastic fun for a worthy cause, so do not hesitate to join us in any way you can so we can maximise the amount raised for this worthy cause.'
ABOUT OWL4BOWELS
OWL4BOWELS is a consortium of organisations from the waste and logistics industry consisting of EPIC Media Group, CMS SupaTrak, Benfleet Scrap and Co, the City of London Corporation, VWS, Fleet Vision International magazine and Visie Communications.
CHARITY BIKE RIDE
OWLS4BOWELS is organising a charity bike ride in June 2024 in honour of the late Jon Miles and in aid of Bowel Cancer UK. Interested individuals and companies can now sign up to become a rider or pledge their support through sponsorships for this worthy cause.
JOIN US TODAY
OWL4BOWELS needs help to raise as much money as possible, and there are various ways companies and individuals can get involved:
• Contact Katy Baddeley to join our team of riders (places are limited to 35 riders, so be quick to sign up).
• Contact Jason Pidgeon to find out about sponsoring the event.
• Alternatively, donate to our JustGiving page.