A new fleet of ultra-modern Dennis Eagle RCVs started work in Gloucester with Ubico in April, after the city council became the eighth local authority shareholder of the environmental services company.
All 11 vehicles in the refuse collection fleet feature the new Elite+ cab introduced by Dennis Eagle earlier this year. The company designed this cab to improve comfort and convenience for the crew and the safety of everyone around the vehicle.
Ten RCVs have 6×2 Rear-Steer Narrow chassis with Olympus 19N bodies and Terberg OmniDEL lifts. The other has a 6×2 Rear-Steer Wide chassis with an Olympus 22W Twin-Pack body and a Terberg OmniDEL Triple lift, which Unico will primarily use for flat collections.
Ten-year contract
Ubico's Head of Fleet Operations, Ian Bourton, said: 'We started a ten-year contract for a range of environmental services, including refuse collections, on April 1 after Gloucester City Council became the latest shareholder council in Ubico.
'As Gloucester part-owns Ubico, it gives the council more control over service provision, and we can provide a very flexible approach at a competitive price. But Gloucester also saw the quality of the service Ubico provided to our other shareholders, who are all neighbouring local authorities in Gloucestershire and West Oxfordshire.
'The driver and crews like the Dennis Eagle trucks are designed and built to be RCVs – and the narrow version with rear-steer makes them very suitable for the tight roads we have in Gloucester. They'll be more manoeuvrable and more efficient, and they won't cause such a hold-up to other road users.
'The Olympus bodies are very reliable. The support we get from Dennis Eagle is great – aftermarket is excellent – and the supply chain has held up well against the challenges of the last couple of years.'
UbiConnect
The fleet will provide fortnightly collections of both refuse and garden waste to more than 57,000 homes in Gloucester. Each vehicle in the fleet has been fitted with the UbiConnect telematics system, which is Dennis Eagle's own DE Connect tailored to the needs of Ubico across its operations in the region.
The system enables Ubico to manage the fleet with maximum environmental efficiency. This includes minimising fuel consumption and carbon emissions by optimising routes, monitoring and improving driver performance, and managing timely servicing and maintenance.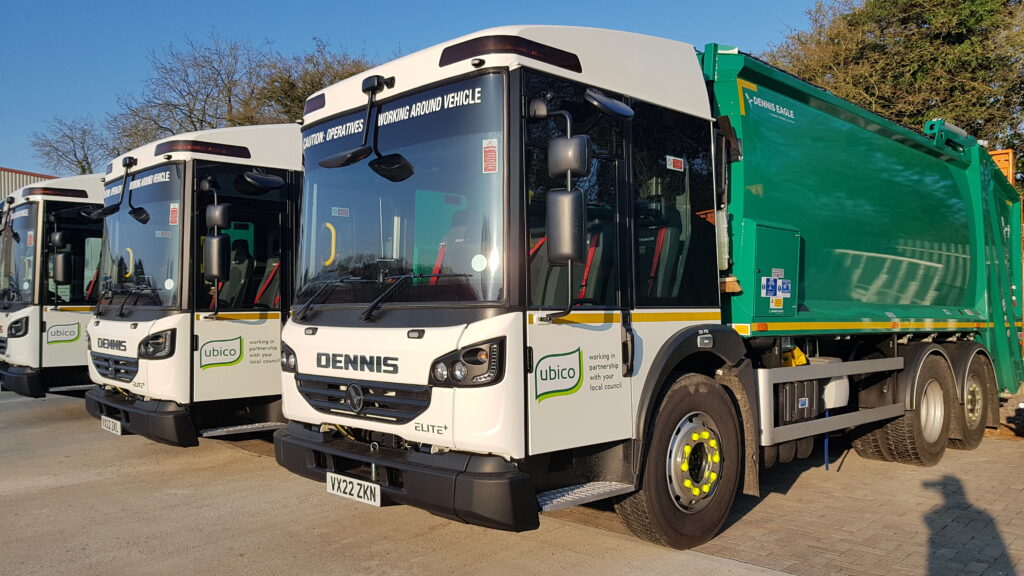 Pilot scheme
'We ran a pilot scheme with Cotswold District Council focusing on eco-driver performance and coaching. It saved nearly 14,000 litres of fuel and more than 35 tonnes of carbon using this onboard technology which is a win-win for our shareholder councils and their residents,' said Ian.
'We will help Gloucester City Council achieve its climate targets, and we hope that customers will see the service reach new heights.'